By Trt Thongnuan
30 December 2016
La La Land is a cinematic triumph — a movie with a perfect combination of genres. It is not purely musical, but leaves room for a witty and an excellent script of a rom-com and drama, where the two lead characters exchange their emotions and their dreams through lovely conversations and escapism.
A harmonious blend of Golden Age and present-day Hollywood, dream and reality, together with the dilemma of choosing between love and the spotlight has been impressively formatted under this seemingly-simple musical, which is set in modern-day Los Angeles, where almost everyone including Mia and Sebastian, wishes to realize their dreams.
As La La Land is a nickname of Los Angeles and also means a place where people are out of touch with reality, viewers are taken to the scenes which feature Mia and Sebastian sharing with them their dreams through singing and dancing, which are common in the musical genre. The songs, coupled with the jazz piano by Sebastian, who loves Jazz music and dreams to be a jazz pub owner, are wonderful.
The director makes fantastic use of his love of Hollywood musicals and successfully employs them in the movie. Many scenes remind us of those in such classic musicals as Singin' in the Rain, Funny Face and An American in Paris. The atmosphere of the Hollywood golden age is beautifully presented. Viewers learn of Hollywood through posters, billboards, graffiti and stories told by Mia, who admires Humphrey Bogart and Ingrid Bergman for their roles in Casablanca and whose dream is to be a Hollywood star.
Ryan Gosling and Emma Stone ideally represent young people with a determination to pursue an ambitious dream. With their flawlessly realistic performances, they depict their success stories through relationships which see them help mutually support, encourage each other, struggle with dilemmas and decide what is best for them.
The American dream is beautifully presented, although it takes a lot of patience and pain for one to achieve their dream, which may even cost them the most important thing in life. But it is always nice to look back and realize how valuable it is to overcome all obstacles before achieving the dream, particularly when you are not there alone.
La La Land is a musical that even those who do not like musical films will easily fall in love with. While some other musicals try hard to provide viewers with escapism, La La Land inserts reality and possibility amidst those dreamlike elements. While viewers are temporarily oblivious as a result of those surreal scenes, the movie never fails to wake them up and introduce to them the life-goes-on sort of reality.
And it is like a never-ending circle, just like the feeling of not wanting the movie to end.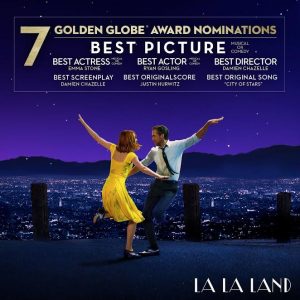 source: http://www.majorcineplex.com/